Circle of Regret
Synthesised Topaz Ring

Requires Level

52





+8% to Fire Resistance



+30 to Intelligence
Adds 1 to 59 Lightning Damage
+21% to Lightning Resistance
Herald of Thunder has 40% increased Buff Effect
54% increased Lightning Damage while affected by Herald of Thunder

I sacrificed a life of love for one of responsibility, so that she,
and others like her, might be kept safe.

~price 30 chaos

Dire Turn
Unset Ring

Requires Level

64





Has 1 Socket



+147 to Evasion Rating
+46 to maximum Energy Shield
+69 to maximum Mana
66% increased Mana Regeneration Rate
+42% to Fire Resistance
+13% to Lightning Resistance

~price 20 chaos

Ventor's Gamble
Gold Ring

Requires Level

65





13% increased Rarity of Items found



+50 to maximum Life
19% reduced Rarity of Items found
+24% to Fire Resistance
+29% to Cold Resistance
+46% to Lightning Resistance

In a blaze of glory,
An anomaly defying all odds
The "unkillable" beast met the divine
And Ventor met his latest trophy.

~price 30 chaos

Survivor's Titanium Lex Proxima Watchstone of the Weaponsmith

Randomly encountered Masters in Areas have 75% increased chance to be Einhar Master Missions from completing Maps have 75% increased chance to be Einhar
Weapons found in Areas have 5% chance to drop with 20% Quality



Only the souls trapped within can bear witness to the Maven's dark proclivities, and they dare not speak up.



Socket this into a Citadel on your Atlas to increase the Tier of Maps and reveal hidden Maps in that Citadel's Region. You can only socket one Crimson, Viridian, Cobalt or Golden Watchstone into each Citadel.

~price 40 chaos

Clear Mind
Cobalt Jewel

20% increased Mana Regeneration Rate
49% increased Spell Damage while no Mana is Reserved



When your thoughts flow like a river, why build a dam?



Place into an allocated Jewel Socket on the Passive Skill Tree. Right click to remove from the Socket.

~price 20 chaos

Golem Gyre
Unset Ring

Quality:

+20%



Requires Level

65





Has 1 Socket



+27 to Evasion Rating
+56 to maximum Energy Shield
18% increased maximum Energy Shield
+17% to Cold Resistance
Curse Enemies with Elemental Weakness on Hit, with 32% increased Effect

~price 9 exalted

Brood Essence
Cobalt Jewel

6% increased Attack Speed with Wands
+11% to Global Critical Strike Multiplier
+16% to Critical Strike Multiplier with Lightning Skills

Place into an allocated Jewel Socket on the Passive Skill Tree. Right click to remove from the Socket.

~price 1 exalted

Thread of Hope
Crimson Jewel

Only affects Passives in Large Ring
Passives in Radius can be Allocated without being connected to your tree
-20% to all Elemental Resistances



Though we cannot touch; one thought, one wish, through centuries alone in darkness.



Place into an allocated Jewel Socket on the Passive Skill Tree. Right click to remove from the Socket.

Carrion Knot
Ruby Ring

Requires Level

60





+25% to Fire Resistance



+43 to Dexterity
+20% to Fire Resistance
43% increased Recovery per second from Life Leech
+2 Mana gained for each Enemy Hit by your Spells

~price 2 exalted

Maelström Solace
Large Cluster Jewel

Requires Level

54



Adds 8 Passive Skills
2 Added Passive Skills are Jewel Sockets
Added Small Passive Skills grant: 12% increased Attack Damage while holding a Shield

Added Small Passive Skills also grant: Regenerate 0.15% of Life per Second
1 Added Passive Skill is Heavy Hitter
1 Added Passive Skill is Prodigious Defence
1 Added Passive Skill is Strike Leader

Place into an allocated Large Jewel Socket on the Passive Skill Tree. Added passives do not interact with jewel radiuses. Right click to remove from the Socket.

~price 35 chaos

Inscribed Ultimatum

Blistering Cold III
Razor Dance III
Ruin III
Less Cooldown recovery
Escalating Damage Taken
20% increased Monster Damage
70% more Monster Life

Can be used in a personal map device to open portals to the Trialmaster's Domain and attempt his challenge. Portals will close once the challenge begins.

~price 70 chaos

Entropy Bliss
Cobalt Jewel

4% increased Totem Placement speed



+9% to Global Critical Strike Multiplier
+13% to Critical Strike Multiplier for Spells
+15% to Critical Strike Multiplier with Lightning Skills
14% increased Damage with Wands

Place into an allocated Jewel Socket on the Passive Skill Tree. Right click to remove from the Socket.

~price 5 exalted

Victory Torc
Paua Amulet

Requires Level

60





22% increased Mana Regeneration Rate



+12% to Fire Damage over Time Multiplier
16% increased Evasion Rating
+16% to all Elemental Resistances
7% chance to gain a Power, Frenzy or Endurance Charge on Kill

~price 20 chaos

Cataclysm Sliver
Large Cluster Jewel

Requires Level

67



Adds 8 Passive Skills
2 Added Passive Skills are Jewel Sockets
Added Small Passive Skills grant: 12% increased Attack Damage while holding a Shield

Added Small Passive Skills also grant: +7% to Fire Resistance
1 Added Passive Skill is Calamitous
1 Added Passive Skill is Heavy Hitter
1 Added Passive Skill is Strike Leader

Place into an allocated Large Jewel Socket on the Passive Skill Tree. Added passives do not interact with jewel radiuses. Right click to remove from the Socket.

~price 35 chaos

Blight Sliver
Large Cluster Jewel

Requires Level

40



Adds 8 Passive Skills
2 Added Passive Skills are Jewel Sockets
Added Small Passive Skills grant: 12% increased Attack Damage while holding a Shield

1 Added Passive Skill is Calamitous
1 Added Passive Skill is Heavy Hitter
1 Added Passive Skill is Prodigious Defence

Place into an allocated Large Jewel Socket on the Passive Skill Tree. Added passives do not interact with jewel radiuses. Right click to remove from the Socket.

~price 40 chaos

Entropy Vessel
Large Cluster Jewel

Requires Level

54



Adds 8 Passive Skills
2 Added Passive Skills are Jewel Sockets
Added Small Passive Skills grant: 12% increased Attack Damage while holding a Shield

Added Small Passive Skills also grant: +5 to Strength
1 Added Passive Skill is Calamitous
1 Added Passive Skill is Smite the Weak
1 Added Passive Skill is Vicious Skewering

Place into an allocated Large Jewel Socket on the Passive Skill Tree. Added passives do not interact with jewel radiuses. Right click to remove from the Socket.

~price 30 chaos

Armageddon Vessel
Large Cluster Jewel

Requires Level

40



Adds 8 Passive Skills
2 Added Passive Skills are Jewel Sockets
Added Small Passive Skills grant: 12% increased Attack Damage while holding a Shield

1 Added Passive Skill is Advance Guard
1 Added Passive Skill is Calamitous
1 Added Passive Skill is Smite the Weak

Place into an allocated Large Jewel Socket on the Passive Skill Tree. Added passives do not interact with jewel radiuses. Right click to remove from the Socket.

~price 100 chaos

Plague Glimmer
Large Cluster Jewel

Requires Level

40



Adds 8 Passive Skills
2 Added Passive Skills are Jewel Sockets
Added Small Passive Skills grant: 12% increased Attack Damage while holding a Shield

1 Added Passive Skill is Advance Guard
1 Added Passive Skill is Calamitous
1 Added Passive Skill is Heavy Hitter

Place into an allocated Large Jewel Socket on the Passive Skill Tree. Added passives do not interact with jewel radiuses. Right click to remove from the Socket.

~price 40 chaos

Rapture Curio
Small Cluster Jewel

Requires Level

60



Adds 2 Passive Skills
Added Small Passive Skills grant: 6% increased maximum Energy Shield

Added Small Passive Skills also grant: +4% to Cold Resistance
Added Small Passive Skills also grant: +15 to Evasion
Added Small Passive Skills also grant: Regenerate 0.2% of Life per Second
1 Added Passive Skill is Will Shaper

Place into an allocated Small, Medium or Large Jewel Socket on the Passive Skill Tree. Added passives do not interact with jewel radiuses. Right click to remove from the Socket.

~price 30 chaos

Bramble Prism
Small Cluster Jewel

Requires Level

60



Adds 2 Passive Skills
Added Small Passive Skills grant: 4% increased maximum Life

Added Small Passive Skills also grant: +3% to Fire Resistance
Added Small Passive Skills also grant: +6 to Maximum Life
Added Small Passive Skills also grant: Regenerate 0.15% of Life per Second
1 Added Passive Skill is Wall of Muscle

Place into an allocated Small, Medium or Large Jewel Socket on the Passive Skill Tree. Added passives do not interact with jewel radiuses. Right click to remove from the Socket.

~price 40 chaos

Vivid Hope
Small Cluster Jewel

Requires Level

62



Adds 2 Passive Skills
Added Small Passive Skills grant: 4% increased maximum Life

Added Small Passive Skills also grant: +48 to Evasion
Added Small Passive Skills also grant: +9% to Fire Resistance
Added Small Passive Skills also grant: Regenerate 0.2% of Life per Second
1 Added Passive Skill is Wall of Muscle

Place into an allocated Small, Medium or Large Jewel Socket on the Passive Skill Tree. Added passives do not interact with jewel radiuses. Right click to remove from the Socket.

~price 33 chaos

Dusk Scar
Large Cluster Jewel

Requires Level

60



Adds 8 Passive Skills
2 Added Passive Skills are Jewel Sockets
Added Small Passive Skills grant: 10% increased Attack Damage

1 Added Passive Skill is Devastator
1 Added Passive Skill is Fuel the Fight
1 Added Passive Skill is Smite the Weak

Place into an allocated Large Jewel Socket on the Passive Skill Tree. Added passives do not interact with jewel radiuses. Right click to remove from the Socket.

~price 100 chaos

Luminous Sliver
Small Cluster Jewel

Requires Level

60



Adds 2 Passive Skills
Added Small Passive Skills grant: 4% increased maximum Life

Added Small Passive Skills also grant: +6 to Maximum Life
Added Small Passive Skills also grant: Regenerate 0.1% of Life per Second
1 Added Passive Skill is Wall of Muscle

Place into an allocated Small, Medium or Large Jewel Socket on the Passive Skill Tree. Added passives do not interact with jewel radiuses. Right click to remove from the Socket.

~price 33 chaos

Awakened Blasphemy Support

Quality:

+20%



Requires Level

78

,

123

Int



Supports hex curse skills, turning them into auras that will apply their effect to all enemies in an area around you.



Supported Skills apply their Curse as Auras Supported Curse Skills also count as Aura Skills Hexes from Supported Skills do not gain Doom over time
Using Supported Skills is Instant
10% increased Effect of Supported Curses
86% increased Area of Effect of Supported Curse Skills
+1 to Level of Supported Curse Skill Gems

This is a Support Gem. It does not grant a bonus to your character, but to skills in sockets connected to it. Place into an item socket connected to a socket containing the Active Skill Gem you wish to augment. Right click to remove from a socket.

~price 1.5 exalted

Loath Scar
Small Cluster Jewel

Requires Level

60



Adds 2 Passive Skills
Added Small Passive Skills grant: 6% increased maximum Energy Shield

Added Small Passive Skills also grant: +6% to Cold Resistance
Added Small Passive Skills also grant: +10 to Maximum Life
Added Small Passive Skills also grant: Regenerate 0.15% of Life per Second
1 Added Passive Skill is Will Shaper

Place into an allocated Small, Medium or Large Jewel Socket on the Passive Skill Tree. Added passives do not interact with jewel radiuses. Right click to remove from the Socket.

~price 30 chaos

Damnation Band
Opal Ring

Quality:

+20%



Requires Level

80





30% increased Elemental Damage



24% faster start of Energy Shield Recharge
+29% to Fire Resistance
+29% to Lightning Resistance
Curse Enemies with Frostbite on Hit, with 20% increased Effect

~price 4 exalted

Sol Glisten
Small Cluster Jewel

Requires Level

62



Adds 2 Passive Skills
Added Small Passive Skills grant: 4% increased maximum Life

Added Small Passive Skills also grant: +8% to Fire Resistance
Added Small Passive Skills also grant: +5 to Maximum Energy Shield
Added Small Passive Skills also grant: Regenerate 0.1% of Life per Second
1 Added Passive Skill is Wall of Muscle

Place into an allocated Small, Medium or Large Jewel Socket on the Passive Skill Tree. Added passives do not interact with jewel radiuses. Right click to remove from the Socket.

~price 30 chaos

Armageddon Creed
Small Cluster Jewel

Requires Level

60



Adds 2 Passive Skills
Added Small Passive Skills grant: 6% increased maximum Energy Shield

Added Small Passive Skills also grant: +3% to Fire Resistance
Added Small Passive Skills also grant: +2 to Maximum Life
1 Added Passive Skill is Will Shaper

Place into an allocated Small, Medium or Large Jewel Socket on the Passive Skill Tree. Added passives do not interact with jewel radiuses. Right click to remove from the Socket.

~price 30 chaos

Awakener's Orb

Stack Size: 1/10



Destroys an item, applying its influence to another of the same item class The second item is reforged as a rare item with both influence types and new modifiers



Right click this item, then left click the item you wish to take the influence from, then left click an item of the same item class you wish to apply it to.

~price 2 exalted
1

Ghoul Spark
Small Cluster Jewel

Requires Level

54



Adds 2 Passive Skills
Added Small Passive Skills grant: 6% increased maximum Energy Shield

Added Small Passive Skills also grant: +3% to Chaos Resistance
Added Small Passive Skills also grant: +8 to Maximum Energy Shield
1 Added Passive Skill is Energy From Naught

Place into an allocated Small, Medium or Large Jewel Socket on the Passive Skill Tree. Added passives do not interact with jewel radiuses. Right click to remove from the Socket.

~price 70 chaos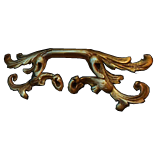 Dusk Pith
Titanium Spirit Shield

Requires Level

68

,

159

Int

+27 to Intelligence
98% increased Lightning Damage
+8 to maximum Energy Shield
Regenerate 10.9 Life per second
+12 to maximum Mana
Reflects 24 Physical Damage to Melee Attackers
39% chance to Shock Attackers for 4 seconds on Block

~price 100 chaos

Sol Eye
Large Cluster Jewel

Requires Level

54



Adds 8 Passive Skills
2 Added Passive Skills are Jewel Sockets
Added Small Passive Skills grant: 10% increased Attack Damage

Added Small Passive Skills also grant: +2% to Cold Resistance
1 Added Passive Skill is Feed the Fury
1 Added Passive Skill is Martial Prowess
1 Added Passive Skill is Vicious Skewering

Place into an allocated Large Jewel Socket on the Passive Skill Tree. Added passives do not interact with jewel radiuses. Right click to remove from the Socket.

~price 80 chaos

Overripe Platinum Lex Proxima Watchstone of the Hoarder

Unique Map Bosses have 5% chance to drop an additional Unique Item
Harvest Crops in Areas have 15% increased chance to contain a Tier 4 Plant



Only the souls trapped within can bear witness to the Maven's dark proclivities, and they dare not speak up.



Socket this into a Citadel on your Atlas to increase the Tier of Maps and reveal hidden Maps in that Citadel's Region. You can only socket one Crimson, Viridian, Cobalt or Golden Watchstone into each Citadel.

~price 3 exalted

Overripe Platinum Lex Proxima Watchstone of the Voices

Unique Bosses have 13.5% chance to drop an additional Essence
Harvest Crops in Areas have 15% increased chance to contain a Tier 4 Plant



Only the souls trapped within can bear witness to the Maven's dark proclivities, and they dare not speak up.



Socket this into a Citadel on your Atlas to increase the Tier of Maps and reveal hidden Maps in that Citadel's Region. You can only socket one Crimson, Viridian, Cobalt or Golden Watchstone into each Citadel.

~price 3 exalted

Behemoth Star
Small Cluster Jewel

Requires Level

62



Adds 2 Passive Skills
Added Small Passive Skills grant: 6% increased maximum Energy Shield

Added Small Passive Skills also grant: +2% to Elemental Resistance
Added Small Passive Skills also grant: +12 to Maximum Mana
1 Added Passive Skill is Energy From Naught

Place into an allocated Small, Medium or Large Jewel Socket on the Passive Skill Tree. Added passives do not interact with jewel radiuses. Right click to remove from the Socket.

~price 30 chaos

Bountiful Platinum Lex Proxima Watchstone of the Armoursmith

Armour Items found in Areas have 5% chance to drop with 20% Quality
Plants Harvested in Areas have 4.0% chance to give an additional Crafting option



Only the souls trapped within can bear witness to the Maven's dark proclivities, and they dare not speak up.



Socket this into a Citadel on your Atlas to increase the Tier of Maps and reveal hidden Maps in that Citadel's Region. You can only socket one Crimson, Viridian, Cobalt or Golden Watchstone into each Citadel.

~price 3 exalted

Ghoul Essence
Small Cluster Jewel

Requires Level

40



Adds 2 Passive Skills
Added Small Passive Skills grant: 6% increased maximum Energy Shield

Added Small Passive Skills also grant: +3% to Chaos Resistance
Added Small Passive Skills also grant: +3% to Fire Resistance
1 Added Passive Skill is Energy From Naught

Place into an allocated Small, Medium or Large Jewel Socket on the Passive Skill Tree. Added passives do not interact with jewel radiuses. Right click to remove from the Socket.

~price 30 chaos

Bountiful Platinum Lex Proxima Watchstone of the Prophet

Unique Bosses have 14.1% chance to drop an additional Silver Coin
Plants Harvested in Areas have 3.4% chance to give an additional Crafting option



Only the souls trapped within can bear witness to the Maven's dark proclivities, and they dare not speak up.



Socket this into a Citadel on your Atlas to increase the Tier of Maps and reveal hidden Maps in that Citadel's Region. You can only socket one Crimson, Viridian, Cobalt or Golden Watchstone into each Citadel.

~price 3 exalted