Notable Medium Cluster Jewel

Adds 4 Passive Skills
Added Small Passive Skills grant: 6% increased Flask Effect Duration



1 Added Passive Skill is Brewed for Potency



Place into an allocated Medium or Large Jewel Socket on the Passive Skill Tree. Added passives do not interact with jewel radiuses. Right click to remove from the Socket.

Megalomaniac
Medium Cluster Jewel

Adds 4 Passive Skills
Added Small Passive Skills grant Nothing
1 Added Passive Skill is Calamitous
1 Added Passive Skill is No Witnesses
1 Added Passive Skill is Self-Fulfilling Prophecy
Corrupted



If you're going to act like you're better than everyone else, make sure you are.



Place into an allocated Medium or Large Jewel Socket on the Passive Skill Tree. Added passives do not interact with jewel radiuses. Right click to remove from the Socket.

~price 1 exa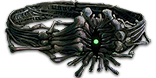 Fate Bond
Stygian Vise

Requires Level

57





Has 1 Abyssal Socket



13% reduced Enemy Stun Threshold
+15 to maximum Energy Shield
+93 to maximum Life
+59 to maximum Mana
+42% to Lightning Resistance

~price 1.2 exa

Awakened Unbound Ailments Support

Requires Level

72

,

50

Dex,

72

Int



Supports any skill that hits enemies.



Supported Skills have 56% increased Duration of Ailments on Enemies
Supported Skills have 35% increased Effect of non-Damaging Ailments on Enemies
Supported Skills deal 34% more Damage with Ailments

This is a Support Gem. It does not grant a bonus to your character, but to skills in sockets connected to it. Place into an item socket connected to a socket containing the Active Skill Gem you wish to augment. Right click to remove from a socket.

~price 30 chaos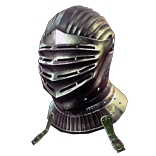 Torment Brow
Fluted Bascinet

Requires Level

64

,

64

Str,

64

Dex

49% increased Armour and Evasion
+36 to maximum Life
6% chance to Shock
14% increased Effect of Shock
Skills supported by Unleash have +1 to maximum number of Seals

~price 140 chaos

Viper Ember
Crimson Jewel

14% increased Melee Critical Strike Chance
+18% to Critical Strike Multiplier with One Handed Melee Weapons
+16% to Critical Strike Multiplier with Cold Skills
+10% to Cold and Lightning Resistances

Place into an allocated Jewel Socket on the Passive Skill Tree. Right click to remove from the Socket.

~price 60 chaos

Lacerate

Quality:

+23%



Requires Level

72

,

70

Str,

100

Dex



Slashes twice, releasing waves of force that damage enemies they hit. Enemies in the middle of the slashes can be hit by both. The slashes will have a chance to inflict bleeding in Blood Stance, or have a wider angle in Sand Stance, Can be used with Axes and Swords. You are in Blood Stance by default.



Deals 124% of Base Damage
81 to 122 Added Attack Physical Damage
+10 to radius
11% increased Area of Effect
25% chance to cause Bleeding while in Blood Stance
90% more Damage with Bleeding while in Blood Stance
50% increased angle while in Sand Stance
Corrupted

Place into an item socket of the right colour to gain this skill. Right click to remove from a socket.

~price 1.8 exa

Glyph Scar
Viridian Jewel

6% increased maximum Life
10% increased maximum Mana
+10% to all Elemental Resistances

Place into an allocated Jewel Socket on the Passive Skill Tree. Right click to remove from the Socket.

~price 120 exa

Damnation Bloom
Viridian Jewel

8% increased Attack Speed with Bows
5% increased maximum Life
+8% to all Elemental Resistances

Place into an allocated Jewel Socket on the Passive Skill Tree. Right click to remove from the Socket.

~price 70 chaos

Viper Turn
Unset Ring

Requires Level

60





Has 1 Socket



+2 to Level of Socketed Gems
+13 to maximum Energy Shield
+7% to all Elemental Resistances
9% chance to Ignite
Curse Enemies with Level 5 Flammability on Hit
15% increased Damage with Bleeding
7% increased Bleeding Duration
Adds 15 to 33 Fire Damage against Ignited Enemies

~b/o 50 chaos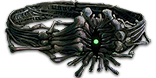 Carrion Trap
Stygian Vise

Quality:

+20%



Requires Level

64





Has 1 Abyssal Socket



30% increased Chaos Damage
+99 to maximum Life
+54% to Cold Resistance
17% increased Flask Charges gained

~price 5.5 exa

Entropy Turn
Unset Ring

Requires Level

60





Has 1 Socket



20% increased Lightning Damage
+73 to maximum Life
Curse Enemies with Level 5 Vulnerability on Hit

~price 1.3 exa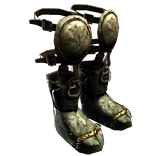 Sol Sole
Titan Greaves

Requires Level

68

,

120

Str



Adds 33 to 50 Cold Damage if you've been Hit Recently



+2 to Level of Socketed Lightning Gems
+27 to Strength
+41% to Cold Resistance
+44% to Lightning Resistance
35% increased Movement Speed

~price 2 exa

Brimstone Coil
Two-Stone Ring

Requires Level

63





+14% to Fire and Lightning Resistances



+45 to maximum Energy Shield
+63 to maximum Mana
68% increased Mana Regeneration Rate
+44% to Lightning Resistance

~price 2.5 exa

Hypnotic Sliver
Cobalt Jewel

16% increased Lightning Damage
6% increased maximum Life
+9% to all Elemental Resistances
+12% to Cold and Lightning Resistances

Place into an allocated Jewel Socket on the Passive Skill Tree. Right click to remove from the Socket.

~price 2 exa

Loath Finger
Ruby Ring

Requires Level

60





+26% to Fire Resistance



Adds 7 to 12 Physical Damage to Attacks
20% faster start of Energy Shield Recharge
+2 Mana gained on Kill
Curse Enemies with Level 5 Despair on Hit
You and your Minions take 38% reduced Reflected Physical Damage

~price 70 chaos

Megalomaniac
Medium Cluster Jewel

Adds 4 Passive Skills
Added Small Passive Skills grant Nothing
1 Added Passive Skill is Precise Focus
1 Added Passive Skill is Rote Reinforcement
1 Added Passive Skill is Touch of Cruelty
Corrupted



If you're going to act like you're better than everyone else, make sure you are.



Place into an allocated Medium or Large Jewel Socket on the Passive Skill Tree. Added passives do not interact with jewel radiuses. Right click to remove from the Socket.

~price 1 exa

Pandemonium Finger
Cerulean Ring

Requires Level

80





9% increased maximum Mana



35% increased Spell Damage
+73 to maximum Mana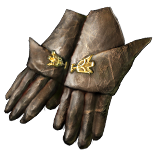 Ghoul Hand
Stealth Gloves

Requires Level

65

,

97

Dex

Socketed Gems are Supported by Level 18 Poison
Socketed Gems are Supported by Level 20 Faster Attacks
Adds 1 to 2 Physical Damage to Attacks
14% increased Attack Speed
+77 to maximum Life
+3 Mana gained on Kill
16% increased Poison Duration

~price 70 exa