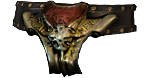 Perandus Blazon
Cloth Belt

Requires Level

16





17% increased Stun and Block Recovery



+23 to all Attributes
6% increased Quantity of Items found
+20% to Fire Resistance
20% increased Flask Effect Duration
-2 Physical Damage taken from Attack Hits

A large enough debt turns even a friend
into an enemy, and the Perandus family
had more debtors than anyone.

Chimeric Ember
Crimson Jewel

4% increased Attack Speed while Dual Wielding
18% increased Critical Strike Chance with Lightning Skills
7% increased Ignite Duration on Enemies
4% chance to Ignite

Place into an allocated Jewel Socket on the Passive Skill Tree. Right click to remove from the Socket.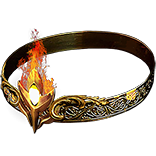 Mark of the Red Covenant
Tribal Circlet

Requires Level

26

,

58

Int

+50 to maximum Energy Shield
Minions have 12% increased Movement Speed
Summoned Raging Spirits deal 142% increased Damage
75% reduced Maximum number of Summoned Raging Spirits
Summoned Raging Spirits' Hits always Ignite
Summoned Raging Spirits refresh their Duration when they Kill an Ignited Enemy

Gleeful are the few
who bask in the blood of the many.